Heenari, along with her partner Garon, is one of the first chachaoongs to spot and attack Yu Jin in protest of his appointment as the next king of the chachaoongs.
Appearance
Edit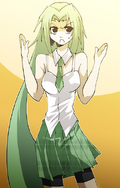 Heenari has dark brown eyes and long, yellow-green hair that she wears pulled back in a loose ponytail. She wears a white tank-top, a green tie attached to a stand-alone white collar, and a green plaid schoolgirl skirt with black legging shorts underneath. She also wears chunky brown trapezoid-shaped earrings.
Personality
Edit
Heenari is typically shown as ill-tempered and complaining about the new king.
Abilities
Edit
Hinaari carries around daggers with which she uses to attack. However, she is also capable of slicing through the air at a longer distance, and is very agile.
Part 1 Season 1
Edit
As they lounge about on a roadway bridge, Heenari and Garon gripe about the new king being a random kid and mention that several chachaoongs have already decided to reject him. Just as they decide that the king's candidate must die, Jin passes by below them. They both jump down and attack him.[1] Heenari's dagger only slices Jin's shoulder, even though she aimed for his neck. After Garon also fails to kill him, Heenari is incredulous when Jin temporarily powers up and knocks them both to the ground.[2] When Imae suddenly appears and announces that he will protect Jin, Heenari notes that he has been missing for two years, and suggests that he might be a fake. After Imae knocks out Garon, Heenari decides to retreat with Garon.[3]
References
Edit
↑ TAL, Part 1 Season 1: 02
↑ TAL, Part 1 Season 1: 03
↑ TAL, Part 1 Season 1: 04
Ad blocker interference detected!
Wikia is a free-to-use site that makes money from advertising. We have a modified experience for viewers using ad blockers

Wikia is not accessible if you've made further modifications. Remove the custom ad blocker rule(s) and the page will load as expected.