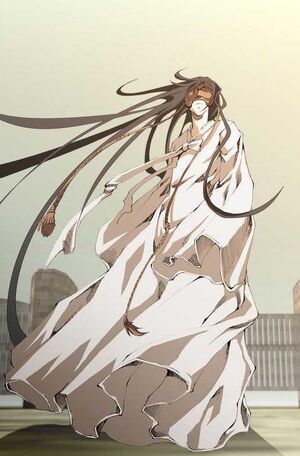 "They walk like ordinary people, they talk like ordinary people but, in fact, there is nothing ordinary about them since they have super human abilities and can materialize an image they have on their mind. They call themselves Chachaoong, and they do not know how or when they came to this world. It is now a time for their current king, Jack, to choose the future king of the second generation. His choice happened to be Yu-Jin, an ordinary human. Many Chachaoong cannot tolerate someone of whom they have never heard ruling them and Yu Jin finds himself caught up in th conflict with new enemies at every turn! But a myserious masked Chachaoong, Ei-Mae Tal, returns after a two-year absence to side with the future king." Manga Fox
Welcome to TAL!
TAL is a Korean webcomic written and drawn by artist Kang Im, and hosted on Naver. This wiki is currently at 45 pages and growing.  We try to cover everything from basic character information to chapters, and trivia gleaned from the author's blog.
Spoiler WarningEdit
Please be advised this wikia contains material that may spoil or otherwise decrease the joy of reading the manhwa. Read at your own risk!  Also note that this wiki defers to the most commonly used spellings of character names, or the way names first appear in the translated manhwa.  Common variants may be listed as well.  This Wiki is updated to the most recent English translation in most cases.
Daum

Black Behemoth   •  Jack, the American Ghost   •  Red Storm   •  Trace   •  Twelfth Night (2nd Wiki)   •  Wake Up Deadman

Foxtoon

Lezhin

Naver

Ability   •  Abide in the Wind   •  Americano Exodus   •  Aura from Another Planet Wiki   •  Bastard   •  Crepuscule   •  Dear, Only You Don't Know   •  Denma   •  DICE (2nd Wiki)   •  Divine Bells   •  Dr. Frost (2nd Wiki)   •   The Flow   •  The Gamer   • Gepetto   •  Girls of the Wild's   •  The God of High School   •  Gosu   •  I Don't Want This Kind of Hero   •  Knight Run   •  Kubera   •  Lessa   •  Magician   •  Mima of the Forest   •  Nano List   •  Noblesse   •  Nowhere Boy   •  Orange Marmalade   •  SHADOW   •  Spirit Fingers   •  Sidekicks   •  Soul Cartel   •  Supernatural Investigation Department   •  TAL   •  A Thousand Years Ninetails   •  Tower of God   •  Transfer Student Storm Bringer   •  Trump   •  UnderPRIN   •  unTOUCHable   •  Winter Woods   •  Wonted

---
Ad blocker interference detected!
Wikia is a free-to-use site that makes money from advertising. We have a modified experience for viewers using ad blockers

Wikia is not accessible if you've made further modifications. Remove the custom ad blocker rule(s) and the page will load as expected.